Facilities Use Information
Lead Testing Notification
Pesticide and Asbestos Notifications
Facilities Use Information
The Board of Education will permit the use of the buildings, grounds and other property of the district, when not in use for school business, for any of the following purposes:
For instruction in any branch of education, learning or the arts.
For holding social, civic and recreational meetings and entertainment; these shall be non-exclusive and open to the general public.
As a polling place
For meetings of district employee organizations and for organizations for veterans and volunteer fireman.
For meetings and entertainment where the proceeds of admission fees charged are to be expended for an educational or charitable purpose, except in the case of veterans' organizations and organizations of volunteer fireman.
Sports events and practice to the extent they can be accommodated
To read the full district policy on Public Use of School Facilities, please click here.
ML Schedules
VCSD now utilizes MC Schedules to streamline the process of requesting to use facilities. Here's how you can get started with ML Schedules:
Register for a New Account
Create an ML Schedules user account here. 
Once your registration is processed, you will receive an email confirmation.
Watch this video for a step-by-step guide to creating a user account. 
Note, VCSD employees do not need to register for user accounts in ML Schedules. They can log in using their Voorheesville Google account.
2. Log In and Request Space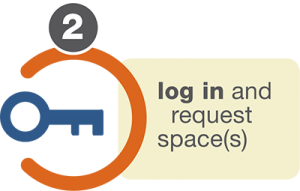 Once you have created an account, you can log in to ML Schedules and make a request to reserve DCS facilities. 
Watch this video for a step-by-step guide to making a request.
For additional information: Download the ML Schedules User Guide here.
Additional Information About Facilities Use
Please review the board policy regarding

use of school facilities

before requesting a space.

Community groups must have a current certificate of insurance on file through their ML Schedules account before they may reserve a space.

Requests must be submitted as follows:

By Sept. 1 for winter activities
By Jan. 1 for spring activities
By May 1 for summer and fall activities

Groups who need to cancel their activity must call the district office 24 hours in advance for weekday activities and by the close of business on Thursday prior to weekend activities.

Please note that if the VCSD closes because of inclement weather or another emergency situation at one or both of its campuses, scheduled events may also be canceled. 
Lead Testing
In Sept. 2016, a state law went into effect that required all public school districts to test water for lead. The law requires school districts to sample all water outlets currently or potentially used for drinking or cooking purposes in buildings that may be occupied by students and to submit those samples to a state-approved lab for analysis. The law has been amended for 2022-23, changing the time frame for testing and the action level for lead, among other changes.
Testing timeline changed from every five to every three years.
According to state law, school districts and Board of Cooperative Educational Services (BOCES) are now required to test water outlets for lead every three years, unless the state commissioner of health requests individual districts to test sooner. The law previously required testing only every five years. Effective Jan. 1, 2023, the testing deadline for the 2023-2025 compliance period is Dec. 31, 2025.
Voorheesville CSD is up-to-date with New York state lead testing requirements, most recently testing in April of 2021. To stay inside the new three-year window, we will perform testing again in March 2024. 
Action level reduced and waiver removed
The state's 2023 revised action level of lead in drinking water is 5 parts per billion (ppb), reduced from 15 ppb. School buildings deemed "lead-free" are no longer exempt from testing requirements.
During our most recent testing, all VCSD drinking stations and kitchen areas were below the 5 ppb mark.
School districts are required to report the results of all water testing to the state Department of Health, the state Education Department and the local health department, and to post the results—along with remediation plans, if required—on the official district website. Our results are below:
Elementary School Result Summary
As required by New York state, Voorheesville Central School District tested faucets throughout the district for levels of lead. The district had all locations that were previously tested in 2016 resampled for thoroughness, understanding that areas already labeled as not suitable for drinking could come back with higher lead levels than state guidelines. During this testing, a number of faucets came back with levels above state guidelines, as noted on the reports. However, all of these faucets except for one, Room 189 in the high school, were identified during testing in 2016 and marked as "Do Not Drink" faucets having non-potable water. These signs have remained in place since 2016, and these faucets are not used for drinking or food preparation.
New York adopted water testing regulations to help ensure that children are protected from lead exposure while in school. Children are particularly vulnerable to the harmful effects of lead, so much so that the experts from the American Academy of Pediatrics, the Centers for Disease Control and Prevention and the World Health Organization agree that there is no safe level of lead for children.
Please contact the superintendent's office if you have any questions about these results.
Pesticide and Asbestos Notifications
Integrated Pest Management
New York State Education Law requires schools to provide written notification to all parents/guardians and staff members regarding the potential use of pesticides periodically throughout the school year. The district maintains a list of all individuals who wish to receive 48-hour prior written notification of certain pesticide applications. If you would like to receive 48-hour notifications of pesticide applications that are scheduled to occur, please contact Assistant Superintendent for Finance and Operations James Southard at 518-765-3313 ext. 102. In the event of an emergency application necessary to protect against an imminent threat to human health, a good faith effort will be made to supply written notification to those on the 48-hour prior notification list. Some pesticide applications are not subject to notification requirements, including anti-microbial products, EPA-designated biopesticides and exempt materials, and when a school remains unoccupied for a continuous 72-hours following an application. For more information on requirements, please contact the school's pesticide representative, Assistant Superintendent for Finance and Operations James Southard at 518-765-3313, ext. 102.
Pesticides and Pest Management Policy
Asbestos Notification
In accordance with the EPA Asbestos Hazard Emergency response Act of 1987 (40 C FR Part 763), the Voorheesville Central School District put in place a management plan to identify and manage asbestos building materials. Periodic surveillance is done every six months.
The District's Asbestos Management plan is kept on file in the District Office. These records are available for review during regular business hours or by making a special appointment. For more information, contact Joseph Sapienza at 518-765-3314, ext. 206