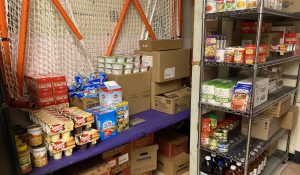 The Blackbird Community Shop, a collaborative effort between Voorheesville Elementary School and the Regional Food Bank of Northeastern New York, has officially opened its doors to offer free food to local families in need. The initiative comes in response to an observed rise in food insecurity within the Voorheesville community.
Intended for families with children enrolled in Voorheesville Elementary School or Middle School, the shop offers confidential shopping experiences with a focus on providing nutritious food to support the overall well-being of the students and their families. Elementary school social worker Lynn Heffern says good nutrition is foundational for students to thrive.
"By reducing food insecurity in our community, we hope to allow for a greater focus on academic success as well as overall physical and mental well-being," said Heffern." This Community Shop model allows our community members to have independence in their shopping experience while offering a greater variety of items to meet their needs."
Visitors may choose independent shopping or fixed boxes. To further bolster the cause, local Girl Scout troops are currently aiding  donation collection. Public donations will be welcomed at a later date once the program has become established.
Blackbird Community Shop is located at the elementary school, 129 Maple Ave, Voorheesville, NY 12186. Parking is available in the staff/visitor lot. Visitors can access the shop by taking the Otterness Bridge and following the designated signs. The shop is open Tuesdays from 8:30 to 10 a.m. and Thursdays from 1:45 to 3:15 p.m.
Email Lynn Heffern or call 518-765-2382 X 523 for more information.