A Capital Region BOCES/Voorheesville senior is wired for success thanks to a solid work ethic and his choice to attend the Capital Region BOCES Career & Technical Education Center's Electrical Trades program.
Voorheesville High School senior Jack Shea plans to attend the Electrical Construction and Maintenance program at Hudson Valley Community College upon graduation next June enroute to a career with National Grid or in the International Brotherhood of Electrical Workers.
Shea said attending BOCES has prepared him well and opened many options for his future.
"Going to this course has really given me a new skill to master and something to take pride in," he said.
Shea is one of 90 students from more than a dozen school districts enrolled in the Capital Region BOCES program this year. Shea takes the program at the Career & Technical Education – Schoharie Campus; the program is also offered on the Albany Campus.
"I like the hands-on work and learning about conduit and wiring," said Shea. "It's fun to come here and learn with friends."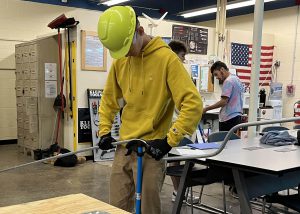 Shea followed in the steps of his brother, Chris, who attended the BOCES program on the Albany Campus and who also attended Hudson Valley Community College.
"My brother was in the program in Albany, and he is a lineman now and he got me real excited about all of the opportunities you have with the education you get at BOCES," Shea said.