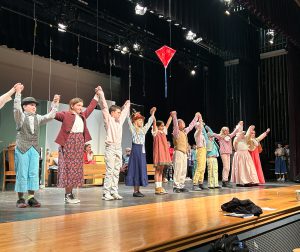 Cast and crew are ready to present Mary Poppins, Jr., at the PAC this weekend. The Voorheesville Middle School Drama Club production features the talents of students working as a team both onstage and backstage.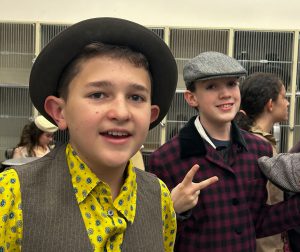 Set in 1910 England, Disney and Cameron Mackintosh's Mary Poppins Jr. features favorite characters, including the Banks family, Bert, and, of course, Mary Poppins. The performance also features many of the beloved songs from the film, with the new hit, "Anything can happen if you let it."
Students have been rehearsing for the performance since the first week of school. Director Steve Suriano said it has been a time of significant growth.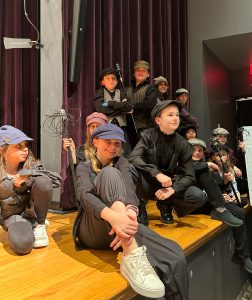 "The kids get a sense of community and belonging," said Suriano. "They help each other shine. It's magical and practically perfect, and it's fun!"
With hours of rehearsals under their belts, the performers have gained a lot through participating.
Alice Viscio (grade 7) plays the villainous Miss Andrew.
"One of my favorite parts about theater is you can focus on your character and not focus on anything else," said Viscio. "It's a nice feeling of nerves and excitement to be on stage and performing for people. It is nice to experience it with other classmates."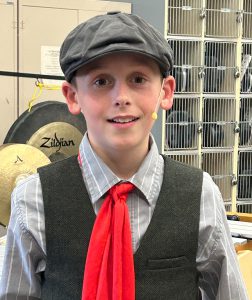 Carter Ward, grade 6, plays Bert.  
"The amount of effort and work that you put into it takes a lot of time, and it can be stressful," said Ward. "It's worth it. Steve is a great director and has taught us a lot of skills."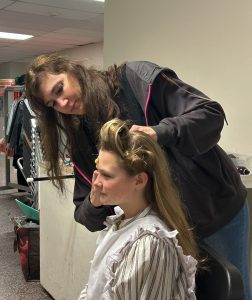 In addition to Suriano, students are led by Producer Desiree Chappelle, Musical Director Christina Beauregard, and Choreographer Francesca Soldevere. The help of volunteers, including dozens of high school students, made the production possible.
Showtimes at the PAC are Friday, Nov. 17, 7-9 p.m., Saturday, Nov. 18, 7-9 p.m. and Sunday, Nov. 19, 2- 4 p.m.  
Tickets are $12 for adults, $6 for students. Admission is free for senior citizens. Tickets may be purchased in advance at www.myschoolbucks.com or at the door before each performance.