Some freshmen and sophomore Clayton A. Bouton High School students attended a luncheon and panel discussion on March 9, highlighting the successes women have made in building careers in the skilled trades while also recruiting the next generation of women skilled tradespeople.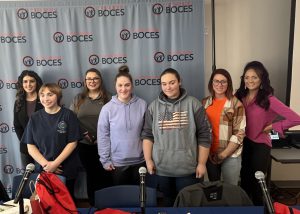 The Capital Region BOCES Celebrates Women in the Trades luncheon featured six successful women—including two graduates of the BOCES Career & Technical Education Center—speaking about their careers and encouraging a room full of young students from a dozen area school districts interested in those careers. Also on hand were women who work in the trades at other businesses.
Speaking to the more than 120 people on hand about their experiences in the trades were Andrea Crisafulli, President, Crisafulli Bros. Plumbing & Heating Contractors, Inc.; Victoria Carl, Owner, Carl's Advanced Automotive & Truck Repair Center and a 2017 graduate of the Diesel Tech program; Cassandra Harrat, Marketing & PR, Home Evolution Contractor, LLC; Maryssa Navarro, Apprentice, Laborers Local 17; Reagan Smith, Project Coordinator, DWM Comprehensive Solutions, 2020 graduate of the Construction/Heavy Equipment program and Tori Rodriquez, Account Executive, Haun Welding Supply.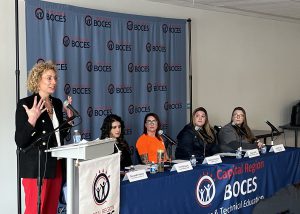 "Being in the trades there is a stability that you can't find in other industries. These are jobs that a robot cannot do," Rodriguez told the young women on hand. "There's no lack of work for people in the trades."
Crisafulli sounded a similar message.
"You can go anywhere you want with the skill sets you learn in the trades," she said.
The panelists also said women have a special role in the skilled trades, bringing skills like time management and organization that their male counterparts might not necessarily have.
They encouraged the young women to make connections, "build their tribe" and pursue their passions.
"Being a woman in a male dominated industry makes you resilient, stronger, better," said Navarro.
The young women who attended the event said they appreciated hearing the perspective of women about the skilled trades.
"It was an amazing event. They gave a lot of good advice for girls and women interested in trade schools," said Cheyenne Watkins, a freshman from Voorheesville interested in a career in welding.
"It was very educational for young women who are looking for a career in the trades, and they had a lot of good points for girls who are going into it already," added Alicia Hillmann, a sophomore from Voorheesville.
Attending the event were freshmen and sophomore students from the North Colonie, Mohonasen, Berne-Knox-Westerlo, Ravena-Coeymans-Selkirk, Voorheesville, Duanesburg, Bethlehem, Schoharie, Shenendehowa, Schalmont, Watervliet, Scotia-Glenville school districts.
Those students were interested in pursuing careers in the trades by attending a Capital Region BOCES Career and & Technical Education Center program.
According to Workwave, women are in demand as an untapped resource for skilled workers in trade jobs, as there is a predicted shortage of the labor force and anticipated growth in job opportunities. In fact, the Bureau of Labor Statistics occupational employment projection expects such employment to grow by 8.4 million jobs.
In the construction industry, just 10.9 percent of the workforce identify as women and an even smaller percentage of women–just 1%–are on the front lines of a job site, according to a 2022 article published by BizRent.com.
The luncheon was a key part of the month-long celebration Capital Region BOCES is hosting for Women in the Trades Month.
Capital Region BOCES Managing Program Coordinator-Business & Community Partnerships Nancy Liddle said she is proud of the work of the women students and graduates.
"We are proud to help such trailblazers achieve their dreams as they enter the trades in non-traditional career paths," she said. Liddle, one of the organizers of the luncheon, said "we love encouraging young women to be trailblazers in whatever industry they are interested in."
Photo credit: Mike McCagg