This year, district voters approved a proposition that would seat an ex officio (student representative) to the Board of Education.
Senior Tahlia Michels was selected as the first ex officio student representative and will serve throughout the 2022-23 school year. 
"Being chosen as the first student board member is a privilege," said Michels. "I feel that this unique role holds immense value, because the Board of Education makes decisions that impact all students. I believe I can make a difference for other students by providing student voices, and therefore, help the Board to keep the best interests of the students in mind."
Michels will sit with board members at all public meetings of the Board of Education, participate in public hearings and meetings, but will not be required to participate in mandatory Board trainings.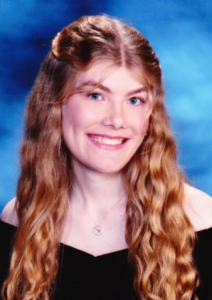 She will serve as a liaison between the Board of Education and the student body, communicating any issues or ideas shared by students, as well as offering student perspectives. 
Michels' past experience includes participation in Student Government as an officer, and continued involvement with school activities and clubs, such as the Girls' Varsity Golf Team, the National Honor Society, and Kiwanis Key Club. "I enjoy being of service to my community, taking on meaningful responsibilities, and putting in my best effort," Michels added.
To be considered for the student representative position, interested candidates must be seniors who have attended the high school for at least two years prior to selection. Michels' selection process included Clayton A. Bouton HS Principal Principal Kristin DuGuay verifying the requirements outlined in the Board's policy, and after consideration of all the candidates, Superintendent Macri made the final selection. 
"Civic engagement is a valuable part of citizenship, and we are happy to welcome a student's participation on the school board," said Board of Education President Dr. Rachel Gilker. "We look forward to working with and hearing from our student member this year. We also welcome all students to attend board meetings. The voices of students are vital; students are why we are here."
Regular meetings of the Voorheesville Board of Education are typically held on the second Monday of every month, from 7-8:30 p.m. in the LGI (large group instruction room), unless otherwise noted. For meeting information, please visit https://www.voorheesville.org/board-of-education/.