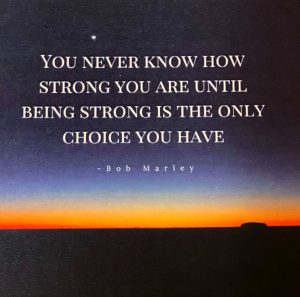 "Do you know why the semicolon is the symbol of suicide prevention? Because your story is not done yet," said Gail Darrigo from Albany County Department for Children Youth and Families. She and her colleague Chelsea Stewart offered support and information to middle and high school students during lunchtime last month. 
September is Suicide Prevention Awareness Month, but as one seventh grader put it, "Me and my sister have discussions that suicide prevention should not just be recognized in one month because it never stops. People are still going to be sad and depressed and not living their best life, not only in September." 
Student safety is the number one priority of the Voorheesville Counseling Department and they want students to know they are available to speak confidentially all year round. The school social worker, Mariel Chu, LCSW said, "We want to be as accessible to students as possible, and share with them the easiest ways to reach us. We encourage students to stop by or email us directly for an appointment. We also posted a QR code in the hallways and bathrooms that will take students directly to a form they may use to request a counseling appointment with us. They simply have to hover their phone's camera over the code."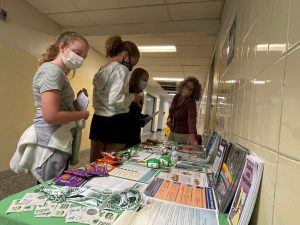 The specialists in the district understand that it's not easy to come forward to talk about problems. They also respect the fact that not every student or family wants to share emotional difficulties with staff at school. "This is why we have professionals from Albany County Mental Health come and talk with students and advertise the community resources that are available," Ms. Chu said. 
The students who stopped by to pick up reading materials and learn about Albany County resources shared why receiving this level of support from the school district will really be able to help people, especially for the ones who aren't ready to ask for help. Being open with peers and adults is how you break the stigma.
"As a person who also has struggled with my mental health for a long time, I've seen a growth of awareness and it's very nice seeing this sort of thing being set up at the school," said a student in eleventh grade, "where in the past throughout my middle school career it wasn't really as discussed. Now, in high school I've seen more discussion about it so that's really nice to have this for younger students too."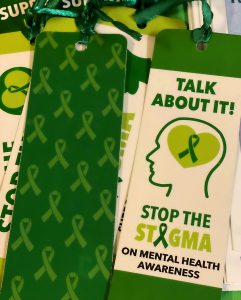 Several students felt empowered to speak up for this story. They told their experiences of stress, depression, and other mental health issues as a way to encourage fellow students to feel comfortable to ask for help.
"When people you care about are going through something, you want to be able to help them, but if they don't feel like you are a safe person to talk to, they can't get the help they need," said a seventh grader. Another teen added, "People can be like, oh you are just doing it for attention, or it's just a phase, but it's not. You've got to really talk to people because not a lot of people have someone they can open up to."
A high school senior recalled how confusing it was for her to be open about issues she was having, "I was the only person I knew for a while going through something. It was very, I don't know who to talk to about this. And as I got older, definitely more booths like this were available to get information. It's kind of comforting to know I am not alone because I felt very alone in middle school. And I would hint at little things, but people wouldn't catch on," she said. "When I got diagnosed, I felt like I had to act a certain way to fit what people thought of it, but I was like, this is how I've lived my life the entire time, it's just a diagnosis with a name. But when I do tell people for the first time, they definitely see me as different than how they previously saw me."
Ms. Darringo told her, "What's important is how you feel and what that means to you. It's not about the label. It's about individual struggles, but also your successes because as much as things don't always feel great, it's important also to savor the things that go well and the positive things because the more time you focus on the positive the less time you have to focus on the stuff that's not going so great." The high school student replied, "I try to make every day positive for everyone else. It's very important to me because a lot of people, like I don't all the time, have someone happy for me, or being there for me, and trying to make me smile and laugh, so I try to do that for other people."
Support for Suicide Prevention
Helplines
Text Hello to 741741

Free, confidential chat with a trained crisis counselor – 24 hours, 7 days a week
Albany County Crime Victim and Sexual Assault Center

(518) 447-7716 Free, confidential call with a sexual assault counselor
Emergency Psychiatric Care
Crisis number: (518) 292-5499
Monday-Friday, 7:00 a.m. – 11:00 p.m.
Saturday and Sunday, 11:00 a.m. – 7:00 p.m.
Holidays 10:00 a.m. – 6:00 p.m.
But call anytime for a referral to Mobile Crisis Response Services
Capital District Psychiatric Center CDPC
Crisis number: (518) 584-3600 or 1-800-959-1287
Ellis Hospital ER
Crisis number: (518)243-4121
Also access your local Emergency Room (ER)
Resources for Students
Resources for Parents