Let's face it, many of us could use a more balanced approach to the amount of time we spend on technological devices.  
The internationally celebrated Screen-Free Week starts on Monday, May 2. The idea is to help children build healthy relationships with technology and spend more time exploring other interests with family and friends.
The uncertainty of the pandemic made it difficult to plan community activities for Screen-Free Week. However, the previously well attended UNPLUGGED PALOOZA FAMILY FUN NIGHT is back! In 2019, more than 300 community members took part in this event. This year, it will be on Thursday, May 5, from 6:00-8:00 p.m. at Wallace Park on Swift Rd. 
Here's a link to find out more about the event, to add it to your calendar, and share with friends.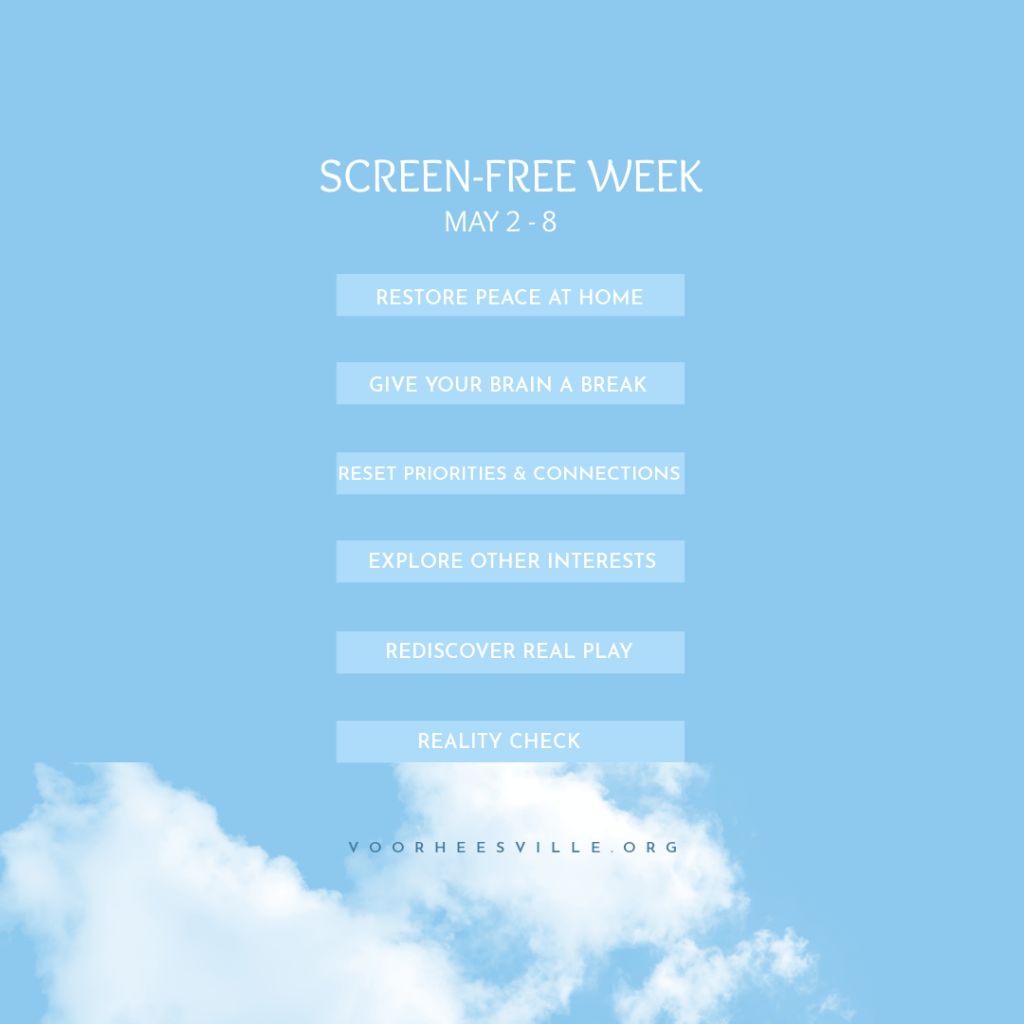 "Many educational, medical, and mental health professionals agree that taking a break from screens has significant benefits! Screen-Free Week is an annual invitation to play, explore, and rediscover the joys of life beyond ad-supported screens for entertainment," said Gail Brown, Librarian II and Head of Youth & Family Services at Voorheesville Library. "Adopting regular screen-free practices all year long  – not just during Screen-Free Week – is not about going without. It is about what you can get! Unplug to recharge – Give yourself a screen break, bond with family and friends, rediscover long neglected interests, and discover new interests beyond screen entertainment," she said.  
The following week, there will be a parent book discussion with a nationally recognized author, teacher, and speaker, Diana Graber. It will take place via Zoom on Thursday, May 12 from 7:00-8:00 p.m. It is recommended that attendees read the book prior to the discussion, but it is not mandatory.
A limited number of the Raising Humans in a Digital World books are available for registrants to keep and they can also request copies through the library system or through the library's digital platform, Hoopla, where the book is available in eBook and audiobook format. Once someone registers, Gail Brown will contact them to make sure they get a book. Here is the link to register – Raising Humans in a Digital World