BBR captures the ideas, stories, and art created by Voorheesville students.
The spring edition of The Blackbird Review is out and available to purchase through the VCSD online store and the Book House of Stuyvesant Plaza.
The literary and arts magazine is created by the high school club, Blackbird Review, led by Mr. Brian Stumbaugh. Four of its editors are graduating this year which opens up ranking positions for club members. Seniors: Editor in Chief Rachel Pahl, Assistant Editor Ella Kelly, Art Director Fiona Wikstrom, and Managing Editor Megan Odorizzi have poured their hearts and talents onto the pages of this magazine, website and social media sites.
"As we get submissions we usually post them on our website once they are done being edited," said Assistant Editor Ella Kelly. "For the magazine, we take the best pieces we know we have room for. Usually we have a club meeting where we talk about – what do you know you want to see in print," said Editor in Chief Rachel Pahl. They use Instagram, Twitter, and Facebook to get more attention to the stories and drive them to the BBR website. "The website is also on the TV in the high school lobby so kids can see it as they walk in. It cycles through. Other than that, it's a lot of word of mouth. We advertise for the Cole Summer Writers Institute and the annual Short Story Contest," Rachel said.
The Blackbird Review is a club for high school students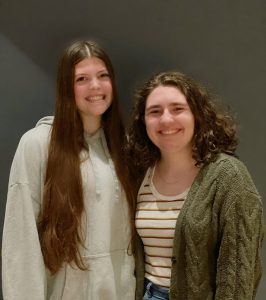 Rachel: The Blackbird Review fosters a creative community. In Voorheesville we try to bring together kids who love any form of creativity, writing art, music, anything.
Ella: You don't have to be some big art person or big writer to join. You are accepted no matter what. Nobody will be rejected or judged. There is something for everyone.
Rachel: If you love the arts, come to the magazine. Talk to Mr. Stumbaugh If you are interested.
Ella: Mr. Stumbaugh is our advisor. He's always at every meeting, but he's always had us run the club. He's always had it be our ideas, what we want to see happen. And he's going to support us through the majority of our ideas.
Rachel: I don't think that there is an idea that he has shut down.
Ella: I don't know (laugh)! But he is definitely always supporting our ideas and pushing us to follow through with them. So I think that is a good thing.
Rachel: We are just a welcoming community that just wants to see Voorheesville thrive pretty much.
Join The Blackbird Review, as a writer or artist, but also if you are not
Ella: I don't think you have to be a good writer to join this club. I'm not a writer myself. But I have been in the club since freshman year so I don't think it has to do with your writing skills. I think it's just if you're interested in it, just join.
Rachel: You don't have to be Shakespeare, Picasso, or Jimi Hendrix to like art, or music, or writing. What's important is you like those things, if you like reading, if you like listening to music and if you like art – even just doodling in your sketchbook. For The Blackbird Review you do not have to excel at it you can just love it. And everyone else will hold you up and foster a creative community. It's a place where you can come and love those things, and be part of a group that loves those things, and contribute to your school community by helping others who love those things.
Ella: I think what's so cool about it is that we are such a small group we are able to focus on what we all really love to do. Since I've been a freshman, I have been trained to become an editor because that is what I'm interested in. I like reading. I like reading other people's works and I like working on it with them. That's what I'm interested in. After high school I want to be a teacher so this is helping me do that. I'll probably be an elementary school teacher so what I'm doing now is at a higher level than what I'll be doing then.
Rachel: I like that it fosters a creative community in the school. There's a place where kids who are… We try to be not just writing – we are a literary magazine, but also try to have pieces about art and music and interviews with teachers. We've done pieces on music in the past and we want to incorporate music more into the website. I really just like that it's a home for creative people. The sports teams are sports people, and there are Science Olympiads, but The Blackbird Review is for anyone who is interested in humanities and arts and they can come and talk about that kind of stuff. Our meetings aren't just all the work we have to do. We talk and have conversations. And through Cole Summer Writers Institute, and short story contests, and all the other stuff that are quasi Blackbird Review, we get a chance to just foster that creativity in our school. After high school I'm either going to end up in history or computer science. Hopefully some form of both. I know they are two very different things, but linguistics and data analysis are my passion so somewhere in that frame. Academia.
They meet once a month. What's it like?
Ella: We will edit outside of our meetings. The meetings are more about what we want to see happen in the future and deciding what we can work on in between each meeting.
Rachel: It's a catch up thing. So it would go like – over the past month we have recorded an interview and have three new pieces. Does anyone have new ideas for the next edition?
Ella: In the past we've done live talks in podcasts.
Rachel: Everything that we have is just using the equipment we have on our own. Mary does podcasts on her own with the materials she has at home. And Fiona does the same for the art stuff. And I sit at my computer at home and I edit things.
Ella: I think Rachel is one of the best writers that I have edited throughout the four years I've been editing here. So whatever Rachel is writing is at the top of my list. When we cover music, it is mostly students who are creating music outside of school. We have covered Sydney Worthley before, who graduated two years ago, I think.
Rachel: Sydney Worthley is a local artist. We talked about covering bands and talked about interviewing some of the teachers who are in a band. Mr. Kaplan has a band outside of school and I know some of the students are in bands together. We've talked also about putting music on the website which is something I would like to try to do before we go – is get some student music on there or even just links to student music or teacher music to kind of diversify it a little bit because we don't want people only thinking we are just writing magazine because that might discourage people who aren't necessarily into writing, but are interested in other forms of arts or humanities to join and we are really trying to diversify that.