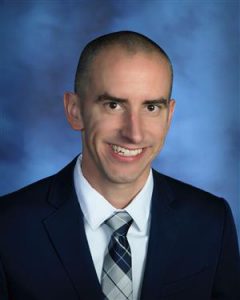 The Voorheesville Central School District is pleased to announce that Richard Shea has been named the new principal of Clayton A. Bouton High School. Mr. Shea was appointed by the Board of Education at the meeting this week. He will start at Clayton A. Bouton High School on July 1.
For the past two years, Mr. Shea has been Principal of the Discovery Academy at Albany High School in the Albany City School District. There, he oversaw 650 students and 45 staff members. Prior to being principal at the Discovery Academy, he was Assistant Principal there. Mr. Shea has also worked for the Berkshire Union Free School District in Canaan, NY as a high school social studies and special education teacher, and was Associate Principal of the Warren Street Academy, a collaborative program between the Hudson and Catskill school districts to help students who were struggling to achieve the credits needed to graduate.
Mr. Shea says he was drawn to Voorheesville because of the community engagement with schools, the size of the district, and its reputation. "I'm looking forward to meeting with students and families and getting to know the staff at the high school," Mr. Shea said. "I am also looking forward to working with the community to see how we can best serve them and how we can partner to engage students at an even higher level."
In his free time, Mr. Shea enjoys a variety of physical activities such as indoor rock climbing, cycling, and running, as well as Dave Matthews Band concerts during the summer.
Mr. Shea received his degree in Adolescent Social Studies from the State University of New York at Oswego and earned a Masters in Education from the College of St. Rose.