Congratulations to Julia Young who has been nominated by the New York State Education Department as 1 of 25 students in the state for the 2023 U.S. Presidential Scholars Program.
Presidential Scholar recognition is one of the nation's highest honors for high school students who represent excellence in education and the promise of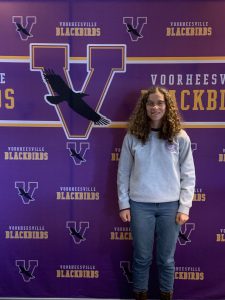 greatness in young people.
"Julia is an amazing student who consistently demonstrates high ideals, artistic excellence, academic strength, and most of all kindness," said Clayton A. Bouton High School Principal Kristin DuGuay. 
Assemblymember Patricia Fahy shared the following about Julia: "I am so proud that Commissioner Rosa has nominated one of our most distinguished young leaders and scholars, Julia Young of Voorheesville High School, for the highly esteemed U.S. Presidential Scholars Program. Julia joins a prestigious group of students nominated for the U.S. Presidential Scholars program each year and has made her community, the 109th District, and New York State proud. Julia is involved in almost every area of her school community, and I'm delighted that she will be rightly recognized for her outstanding and exemplary academic and extracurricular achievements."
We are so proud of you, Julia!
For more information regarding this honor, please see the press release, below:
 STATE EDUCATION DEPARTMENT ANNOUNCES NOMINEES FOR 2023 U.S. PRESIDENTIAL SCHOLARS PROGRAM
 Recognition is Among Nation's Highest Honors for High School Students
The State Education Department nominated 25 New York State high school seniors for the U.S. Presidential Scholars Program, Commissioner Betty A. Rosa announced today.
Board of Regents Chancellor Lester W. Young, Jr. said, "A Presidential Scholars nomination is recognition of the pinnacle of academic attainment, artistic talent, or career and technical program accomplishments. I am deeply impressed by the effort and dedication shown by these young people who exemplify what our students can achieve with hard work and opportunities to thrive."
Commissioner Rosa said, "It is my privilege to submit these fine students to represent New York as Presidential Scholar candidates. Each has shown excellence in their pursuits in school and has made their mark in their community, building on their education through service to others. Each of these students deserves this honor, and I wish them well in the selection process."
The White House Commission on Presidential Scholars selects scholars annually based on their academic success, artistic excellence, essays, school evaluations, and transcripts, as well as evidence of community service, leadership, and demonstrated commitment to high ideals.
Application is by invitation only. Students chosen as U.S. Presidential Scholars receive a U.S. Presidential Scholars medallion in June. For more information on the Presidential Scholars Program, visit the U.S. Department of Education's website.