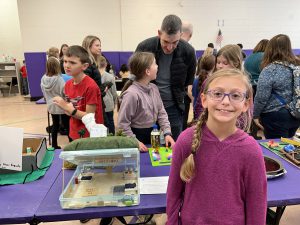 An array of student-created projects were presented to parents, peers, and staff on Jan. 18 at Voorheesville Elementary School.
Grade 4 students used wood, clay, LEGO bricks and more to demonstrate concepts learned in their classrooms about a variety of natural disasters, including tornados, tsunamis, earthquakes and landslides. Using the Next Generation Science Standards, each student engineered a project to demonstrate an idea that they had developed for reducing the negative impact of the disasters on people, animals and the planet.
Voorheesville Central School District supports our students' potential for curiosity, critical thinking, and problem-solving. We work to build students' capacity for independent, self-directed learning.
Congratulations to all of the students for their exceptional work on the displays!